A Day in Life of a WFH Pythonista Ep#8 w/ Georgi & Kan (PyCon Thailand)
September 25 @ 11:00 am

-

12:00 pm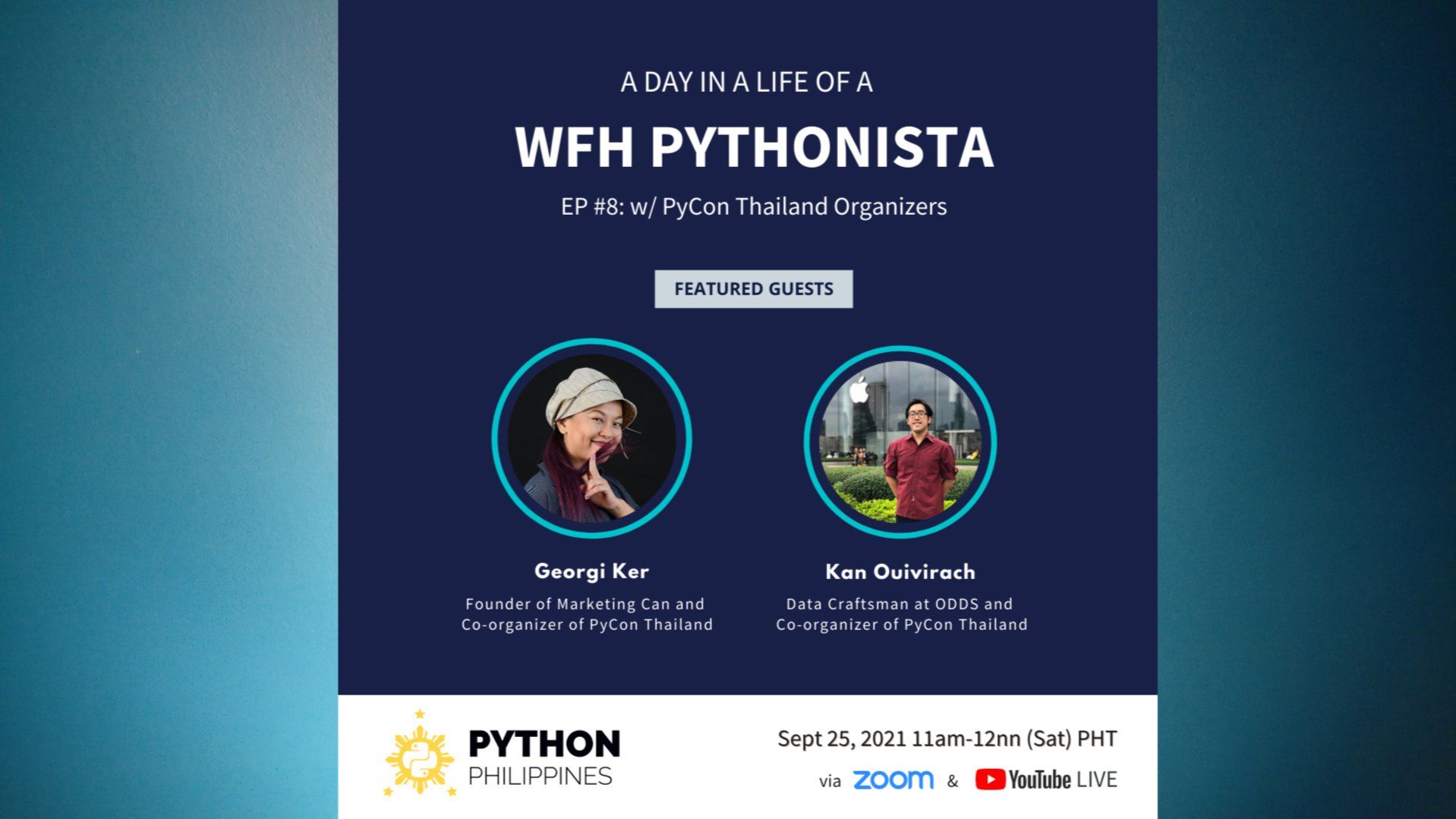 A Day in Life of a WFH Pythonista Ep#8: a webinar talk show with Georgi Ker and Kan Ouivirach, Co-organizers of PyCon Thailand
WHAT:
A Day in a Life of a WFH Pythonista is a monthly virtual webinar talk show series where we interview Pythonistas representing various roles (Developer, CTO, Data Scientist, QA, Network Engineer, Scientist, Educator, etc.) to give people in the community an insight of what a typical workday looks like for these various roles. Hopefully, this would also serve as an inspiration and give a sense of community especially for most who are working from home.
In this episode, we will be interviewing Georgi Ker (Entrepreneur) and Kan Ouivirach, Ph.D. (Data Craftsman). On top of their day jobs, they are Co-organizers of PyCon Thailand!
Georgi is the PyCon APAC Conference Lead 2021 and organiser for several communities in Thailand including PyCon, RubyConf, PyLadies and Codewar. She is also a PSF fellow, member of PSF Diversity and Inclusion Workgroup and has won the PSF Community Service award in 2021. A mother of 2 teenagers, Georgi runs a Business Development and Digital Marketing Consultancy Firm. One of her current projects includes designing the website and assets for PyCon US 2022. During her spare time, she continues to learn new coding skills.
Kan is an enthusiastic data engineer who not only has a scientific mindset, but also a practical approach to software solutions. He is passionate in software engineering, data engineering, and data science. More importantly, he loves Python and uses it every single day at work. When there's any time left to burn Kan likes to improve his skills by taking some courses or contributing to some open-source projects.
…oh and did we mention that they're also organizing this year's PyCon APAC (https://th.pycon.org)? This will be a very exciting event so stay tuned! 🙂
WHEN: September 25, 2021 (Saturday) at 11:00am-12:00nn PHT (UTC +8)
WHERE: Online via Zoom and broadcasted on YouTube Live
Hosted by: Zorex Salvo and Sony Valdez