A Day in Life of a WFH Pythonista Ep#9 w/ Almond & Marte(Makers&Problem Solvers)
October 30, 2021 @ 5:00 pm

-

6:30 pm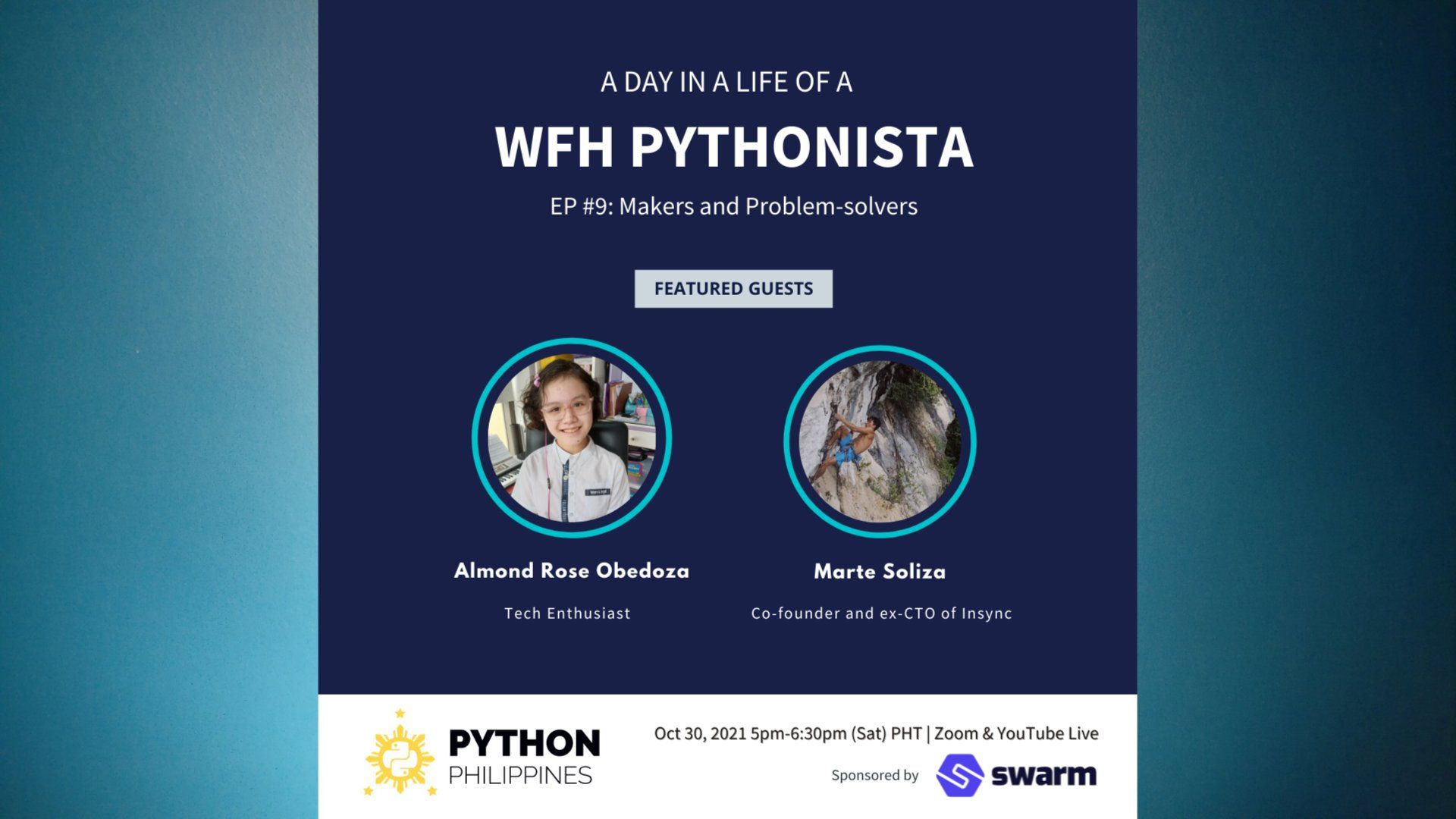 A Day in Life of a WFH Pythonista Ep#9: a webinar talk show with Almond Rose Obedoza and Marte Soliza, Makers and Problem-solvers
WHAT:
A Day in a Life of a WFH Pythonista is a monthly virtual webinar talk show series where we interview Pythonistas representing various roles (Developer, CTO, Data Scientist, QA, Network Engineer, Scientist, Educator, Student, etc.) to give people in the community an insight of what a typical workday looks like for these various roles. Hopefully, this would also serve as an inspiration and give a sense of community especially for most who are working from home or studying from home.
In this episode, we will be interviewing Makers and Problem-solvers – Almond Rose Obedoza (Tech Enthusiast) and Marte Soliza (co-founder and ex-CTO of Insync)
Almond Rose Obedoza is an avid tech enthusiast and an advocate of teaching kids how to code at an early age. Middle school student Mona Obedoza enjoys imagining the many possibilities of our world's future and how technology can positively shape the lives of those around her. However, when she isn't participating in hackathons, delivering speeches at tech conferences, or hosting programming workshops for kids, she can often be found curled up with a book while listening to Japanese music – or experimenting with her laptop's settings while desperately hoping that it won't suddenly crash. You can learn more about her at https://sunshinebunnysoftware.tech
Marte Soliza is the co-founder and ex-CTO of Insync. He has more than a decade of experience in Python and his favorite part about the language is how you can adjust the level of abstraction you use depending on your purpose. He's currently a consultant (https://talaksan.com) trying to solve different problems for different people. He's also helping improve computer science education in the country through the National Olympiad in Informatics (https://noi.ph). He misses traveling and rock climbing outdoors.
WHEN: October 30, 2021 (Saturday) at 5:00pm-6:30pm PHT (UTC +8)
WHERE: Online via Zoom and broadcasted on YouTube Live
Hosted by:
– Ryan Ermita and Alysson Alvaran (PythonPH Trustees)
– Jan Aaron Angelo Lee (CTO of Swarm)
—
🤝 Huge thanks to Swarm for making this show possible and for becoming the "Main Supporter Of The Year" for PythonPH! ❤
About Swarm:
Swarm is an invite-only platform that helps builders connect, ideate, and team up to form projects that make an impact. Join the waitlist via https://swarm.work to get exclusive access to Swarm's builder and founder network, community events, projects marketplace, and more coming soon!