Her 4.0 Mini Event | My Survival Manual as an Entry level Software Engineer
March 29 @ 8:00 pm

-

8:30 pm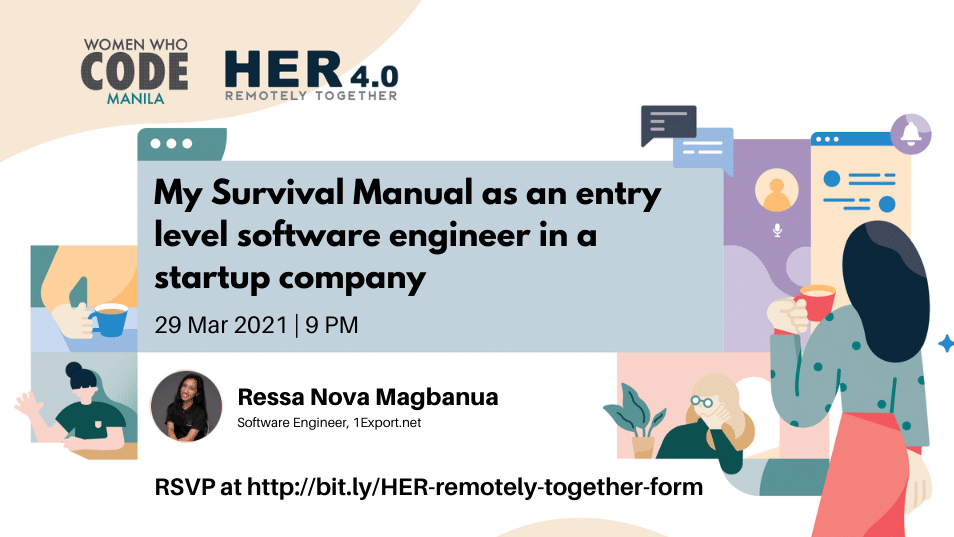 Official Form for the month: http://bit.ly/HER-remotely-together-form
Make sure you have answered this first so we can move you from waitlist to RSVP. You only need to answer this once this women's month.
Topic: My Survival Manual as an Entry Level Software Engineer in a Startup Company
This is what I wish I know and what I think every entry level software engineer need s to hear! <3
1. What you might need to ask during an interview?
2. What you might need to prepare?
3. Know your worth as an entry level web developer in a startup company!
4. You are not alone.
5. Pay it forward to for the incoming new entry level developers.
About our Speaker:
Ressa Nova Magbanua
Hi, I'm Ressa 👋 I am working as a software engineer. I enjoy reading books,🌱 currently learning (and loving) Vue JS and I enjoy working with PHP Laravel!