HER 4.0 MAIN EVENT | Remotely Together (ONLINE)
April 10 @ 1:45 pm

-

5:00 pm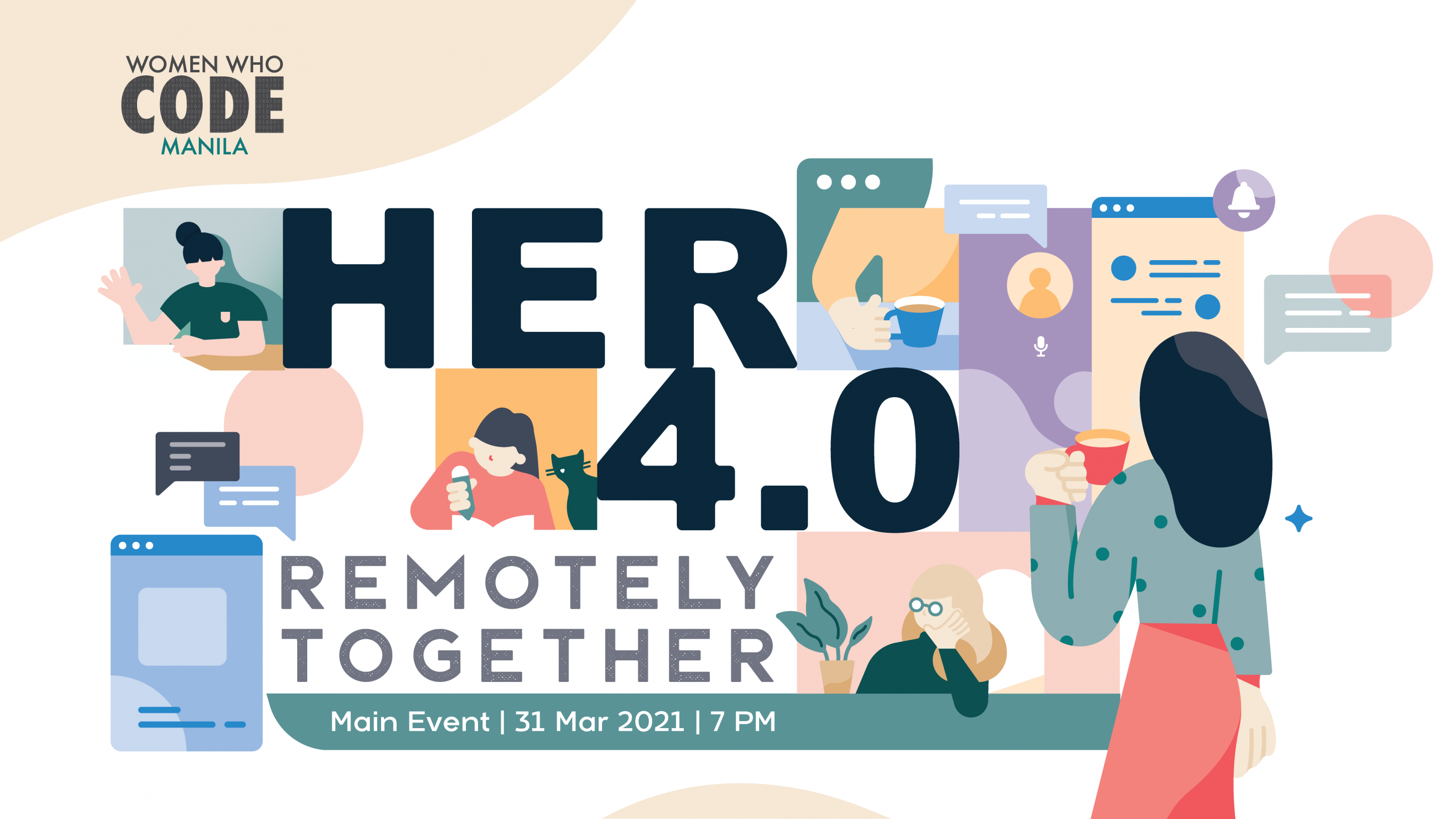 HER 4.0 will be happening online and in a very different format than before. We decided to go with the theme 'Remotely Together' because since the start of pandemic, we never really had a chance to gather in an in-person event and we've learned that many of us had challenges whether it's career-related, health-related, work-life-balance-related and more. As a community, this is what we can do to help by bringing everyone closer together (even though we are all remote), supporting one another and helping everyone to succeed.
If you want to join, RSVP in this event and answer this form: http://bit.ly/HER-remotely-together-form
Make sure to answer this form so we can move you from waitlist to RSVP and send you the invite link to discord.
Schedule:
– Meet & Greet with other fellow devs. Currently, we have front-end devs, backend devs, cloud, mobile devs, moms, ui/ux, data scientist.
– 4 amazing talks:
– Stress and Mental Health with guest speaker: Janneke Agustin
– Science and Tech in the Time of COVID-19 with Iris Yu
– Handling Sudden Growth with Joy Paas
– Honest Guide to Remote Work with Karen Matala
– Fun time with the community!
What is HER?
HER is Women Who Code Manila's flagship event for international women's month every March. This is a gathering of all women in tech in the Philippines to inspire one another and help one another succeed in our tech careers. It focuses mainly on helping our member's soft skills since all year-round, our community events are focus on technical skills (study groups, hackathons, techup sessions, conferences and more).
What's different this time?
1. We have set up a discord server (which will be our official server for this event).
2. We will be hosting mini-events within the month at the discord server. You can volunteer to host a mini event if you like (instruction is in discord).
3. We will end women's month with our flagship Her 4.0 event, gathering every women in tech all over the Philippines and/or bringing every Pinay in tech all over the world.
If you want to join us, feel free to answer the form. We will be sending discord per batches so we can manage discord properly.
If you have questions, feel free to reach out to us at [email protected] and we'll get back to you as soon as we can.
See you at discord or at the events!
Love,
Women Who Code Manila Team