M#11- [Test Heuristic] What's love got to do with it? a communication heuristic
May 21 @ 7:30 pm

-

8:30 pm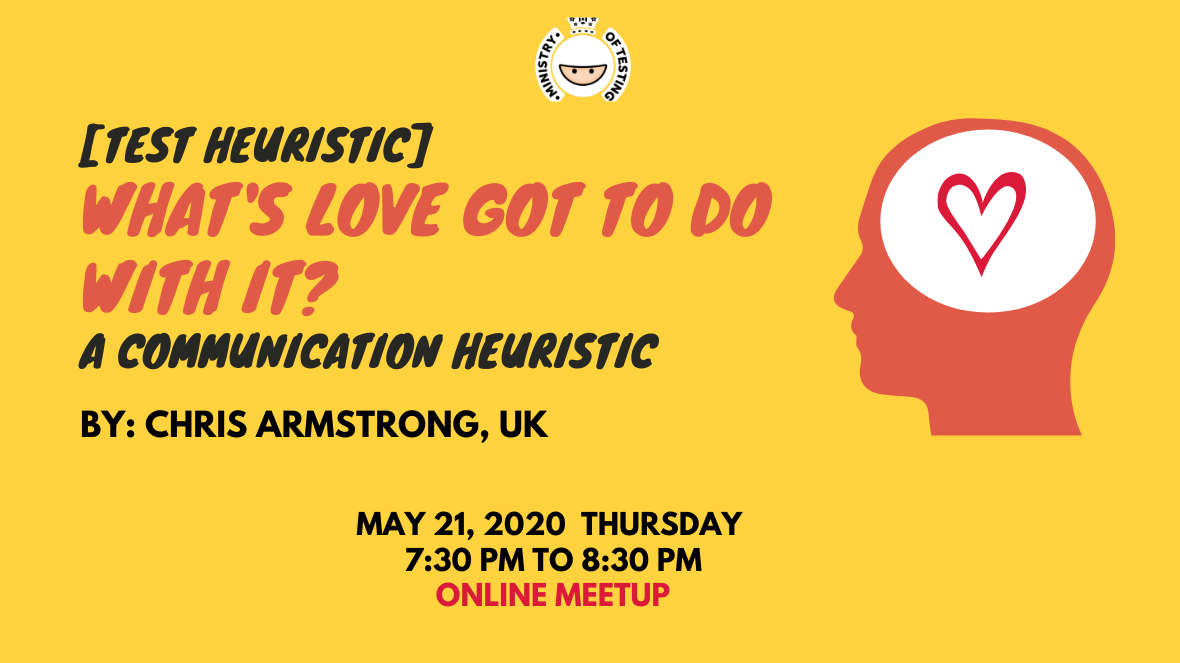 MoT-PH is back and we are now online!!!
We are experimenting with a new format aside from being online, we are doing a shorter but full of learning ( 1 hour) as we adapt to a new working from home lifestyle as we attend other priorities in midst of the global pandemic.
As a truly global community of software testing we are very fortunate for our 11th meetup to have Chris Armstrong of UK.
Chris will talk about What's love got to do with it? – a communication heuristic.
We met Chris in EuroStar Conference in Prague, the Czech Republic last Nov 2019 as EuroStar Huddle – Director. Huddle is a community-focused area at the EuroSTAR Conference. It is a place to meet fellow quality assurance experts and networks between official talks and sessions. See details of the Huddle event
https://conference.eurostarsoftwaretesting.com/fringe-events/huddle/
Chris currently is the test Manager in EasyJet UK. Chris is a professional software tester and has worked through the last fifteen years in the games industry, smart energy sector and now in test, measurement, and diagnostics. He has experienced the breadth of the software life-cycle, participated in manual and automated test (or checks, if you prefer), designed and implemented automation frameworks, and even been release manager.
MoT-PH community keep safe!!!
Even link (via Zoom) to follow