MoTPHMeetUp2022#1 Is BDD good for me? by Gaspar Nagy
January 19 @ 8:00 pm

-

9:00 pm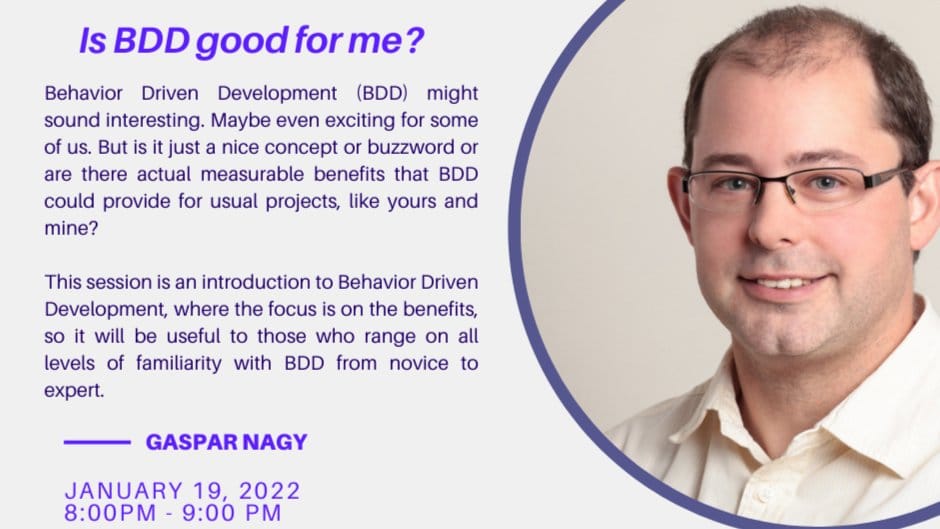 Is BDD good for me?
Abstract:
Behavior Driven Development (BDD) might sound interesting. Maybe even exciting for some of us. But is it just a nice concept or buzzword or are there actual measurable benefits that BDD could provide for usual projects, like yours and mine?
This session is an introduction to Behavior Driven Development, where the focus is on the benefits, so it will be useful to those who range on all levels of familiarity with BDD from novice to expert.
About the Speaker
Gáspár Nagy is the creator of SpecFlow, regular conference speaker, blogger (http://gasparnagy.com), editor of the BDD Addict monthly newsletter (http://bddaddict.com), and co-author of the books "Discovery: Explore behaviour using examples" and "Formulation: Document examples with Given/When/Then" (http://bddbooks.com).
Gáspár is an independent coach, trainer and test automation expert focusing on helping teams implementing BDD and SpecFlow. He has more than 20 years of experience in enterprise software development as he worked as an architect and agile developer coach.