A Day in a Life of a WFH Pythonista – Ep#3 w/ Cory Althoff (Programming Author)
April 24 @ 1:00 pm

-

1:30 pm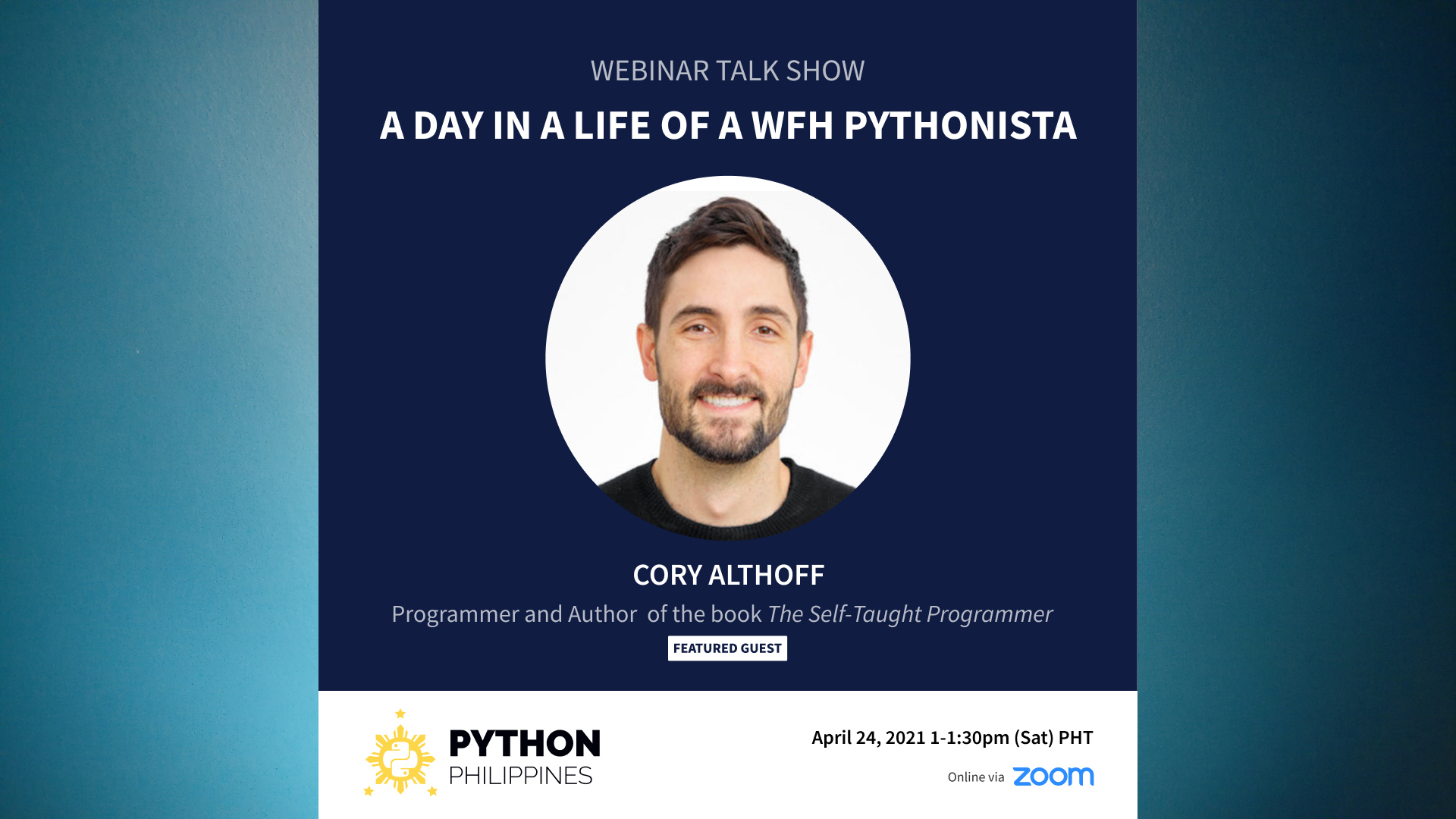 A Day in Life of a WFH Pythonista Ep#3: a webinar talk show with Cory Althoff, Author of the book The Self Taught Programmer
Have you ever wondered what a typical day looks like for a programmer and author?
Or are you a career shifter or a fresh grad thinking of becoming a Python programmer?
This show is for you! Our guest this weekend, Cory Althoff is the author of the book "The Self-taught Programmer".
Here's your chance to ask clarifying questions or random curiosities about becoming a Python Developer 🙂
WHAT:
A Day in a Life of a WFH Pythonista is a monthly virtual webinar talk show series where we interview Pythonistas representing various roles (Developer, CTO, Data Scientist, QA, Network Engineer, Scientist, Educator, etc.) to give people in the community an insight of what a typical work day looks like for these various roles. Hopefully, this would also serve as an inspiration and give a sense of community especially for most who are working from home.
In this episode, we will be interviewing Cory Althoff.
Cory Althoff is an author, programmer, and speaker. He is best known for his book The Self-Taught Programmer, which has been published in seven languages and introduced the term "self-taught programmer" into the common lexicon. Book Authority named The Self-Taught Programmer one of the greatest programming books of all time, and The Next Web listed it as one of the ten books that will help you become a better software engineer. Over 200K developers are part of the self-taught programmer community he created through his popular Facebook group, blog, newsletter, and Udemy course. In 2019, Cory gave the opening keynote speech at Pycon JP. Cory is currently a developer advocate at Vonage and lives in the Bay Area with his wife and daughter.
WHEN: April 24, 2021 (Saturday) at 1:00pm-1:30pm PHT
WHERE: Online via Zoom and broadcasted on YouTube Live
Hosted by: Alysson Alvaran and Angelica Lapastora