DigitalOcean TIDE Online Conference
May 5 @ 12:30 pm

-

3:30 pm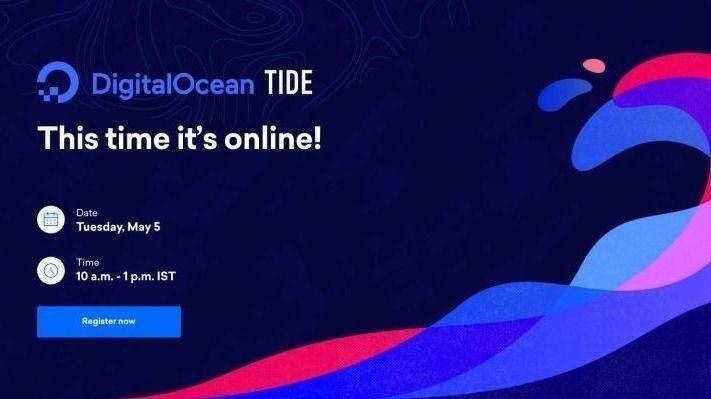 DigitalOcean's TIDE conference — featuring insightful talks and panel discussions designed for technology-enabled businesses — is coming online!
Industry experts and practitioners will share best practices about using cloud to grow and scale your business. This conference is relevant for both business & technical folks at your organization.
RSVP HERE TO GET YOUR UNIQUE EVENT LINK: https://do.co/meetup_tide
What you can expect:
– Lessons in scaling — from launching a startup to acquiring millions of users
– Best practices and latest trends in cloud
– Engaging with fellow software developers, entrepreneurs, and investors from the APAC region
Register now and join us for an interactive session!
– – – – –
AGENDA
12:30 p.m.
Keynote Address
Speaker: Yancey Spruill (CEO, DigitalOcean)
12:50 p.m.
Building a Scalable Product: From 0 to 500K Active Users
Speaker: Apurva Joshi (VP of Product, DigitalOcean)
1:10 p.m.
Building a Global B2B SaaS Business: The Whatfix Story
Speaker: Khadim Batti (Co-founder & CEO, Whatfix)
Moderator: Carly Brantz (CMO, DigitalOcean)
1:30 p.m.
Managed Databases: The Worry-free & Scalable Way to Build Modern Apps
Speaker: André Bearfield (Sr. Product Manager – Managed Databases, DigitalOcean)
2:00 p.m.
Break
2:20 p.m.
Building a Cloud Native Strategy for Your Business
Speaker: Janakiram MSV (Cloud expert)
3:00 p.m.
Making Scalable Technology Decisions for Your Business
Panelists:
Haslinda Rasip (CTO, Dropee)
Dennis Velasco (CEO, Prosperna)
Yu Gene Loh (Founder & Executive Director, Stronium)
Bachtiar Rifai (Co-founder & CEO, Volantis Technology)
Moderator:
Prabhakar Jayakumar (Global Head – GTM, DigitalOcean)
– – – – –
We look forward to seeing you there!