Hacktoberfest: Celebration of Open Source
October 25, 2020 @ 5:00 pm

-

7:30 pm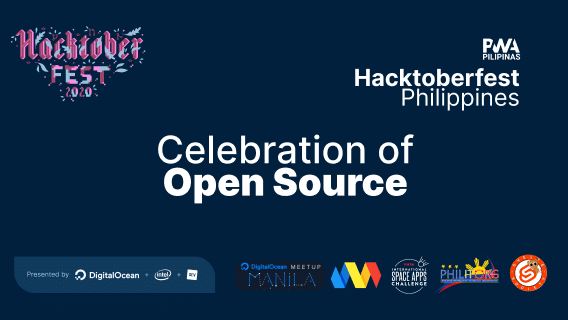 About Hacktoberfest
PWA Pilipinas, in partnership with DigitalOcean Meetup Manila and other partner communities bring you Hacktoberfest Philippines; A series of events celebrating and supporting open source. Learn how open source can help you build software technologies that can change and digitize industries. Visit https://hacktoberfest.pwapilipinas.org for the list of our partner communities and the event lineup we have for Hacktoberfest.
October 11 – Introduction to Open Source –https://organize.mlh.io/events/4584-hacktoberfest-philippines-introduction-to-open-source
October 17 – Hack to Home Screen – https://organize.mlh.io/events/4585-hacktoberfest-philippines-hack-to-home-screen
October 25 – Celebration of Open Source – https://organize.mlh.io/events/4586-hacktoberfest-philippines-celebration-of-open-source
All of the events are **FREE** and would be broadcasted live via PWA Pilipinas Facebook, Twitter and YouTube accounts. In addition, you can participate in the discussion and icebreaker via Zoom by registering in the registration page of the respective events. We may contact you via e-mail for any updates and additional information about our events.
Facebook Live: https://fb.com/PWAPilipinas/live
Twitter: https://twitter.com/PWAPilipinas
YouTube: https://www.youtube.com/channel/UCGnUqjlvx0Kt-tOL5TYBj1A
In case you missed this event, you can watch it anytime, anywhere through our PWA Pilipinas App by visiting https://app.pwapilipinas.org or by downloading it via Google Play –https://play.google.com/store/apps/details?id=org.pwapilipinas.app.twa
About Celebration of Open Source
Many of the software we use today are made using open source technologies. Learn about open source and how you can contribute to your favorite libraries and software using Git and GitHub. Also, we'll be interviewing the winners of the recently concluded NASA Space Apps Challenge 2020 on how open source software helped them develop their winning ideas.
Event code of conduct
Hacktoberfest meetups are welcoming, open, and inclusive. All participants, speakers and volunteers are required to observe and follow the Code of Conduct that you can read by visiting https://heads-up.pwapilipinas.org. In addition, Please read the event's Events Code of Conduct – https://do.co/hacktoberconduct before attending.
Visit https://heads-up.pwapilipinas.org/privacy-policy/ for our privacy policy. For any data-privacy concerns, please send an e-mail to [masked].
Over-all Rules and Rewards
First, sign up on the Hacktoberfest site at https://hacktoberfest.digitalocean.com . To qualify for the official limited edition Hacktoberfest shirt, you must register and make four pull requests between October 1-31. Pull requests can be to any public repo on GitHub, not just the ones with issues labeled Hacktoberfest. If a maintainer reports your pull request as spam or spammy behavior, or not in line with the project's code of conduct, you will be ineligible to participate.
Connect with other Hacktoberfest participants by using @DigitalOcean
– https://twitter.com/digitalocean, @hacktoberfest – https://twitter.com/hacktoberfest, #hacktoberfest on your social media platform of choice.
New to DigitalOcean? Receive USD $100 in infrastructure credit at https://do.co/hacktoberfest100.
Happy hacking!