PizzaPy Cebu's 7th Birthday x Hacktober Fest Cebu 2020 Culmination
October 31 @ 1:00 pm

-

4:00 pm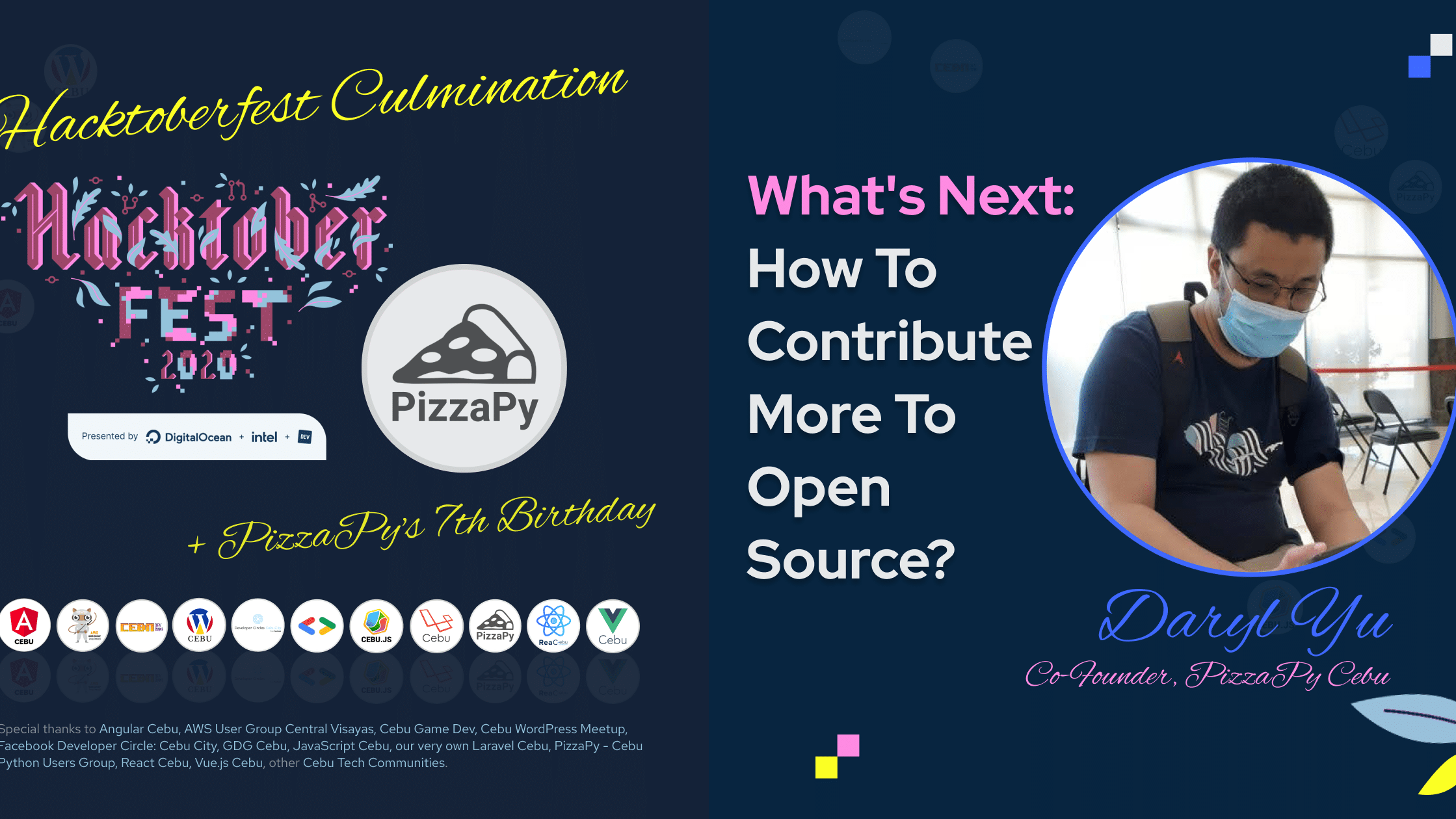 It's PizzaPy Cebu's 7th Birthday!
And what better (and more convenient) way it is to celebrate our birthday than to share it with our fellow Tech Communities in Cebu! 😀
So for our Birthday, we'll be joining the Culmination day of Hacktoberfest Cebu 2020 this Saturday, October 31, 2020, 1 PM onwards.
The event will be online (as all proper Pandemic-era events should be) and the link will be posted a few days before the event starts.
It'll be an event full of Sharing of experiences on contributing to Open Source, and PizzaPy's history. Sort of random, yeah. But it is what it is.
So ready your Pull Requests and Drinks as we celebrate Python, Open Source, and the spirit of Contributing for the Greater Good!
See you there!
PROGRAM:
1:00 – 1:10 – Networking/Participants Check in
1:10 – 1:20 – Community Introduction: The communities behind Cebu Hacktoberfest 2020
1:20 – 1:30 – 7 Years and Beyond: PizzaPy Cebu
1:30 – 2:00 – Show and tell – participants share their Hacktoberfest 2020 experience
2:00 – 2:30 – TALK:
Arnelle Balane
Google Developers Expert in Web Technologies
"Experiences: Creating Your Own Open Source Projects, and Libraries"
2:30 – 3:00 – TALK:
Daryl Yu
Co-Founder, PizzaPy Cebu
"What's Next?: How to Contribute More To Open Source"
3:00 – 3:10 – Awarding of Winners for the 2nd Social Media Contest
3:10 – 3:20 – Closing/Group Photo