[PythonPH x AWSUGPH] A Day in a Life of a WFH Cloud Developer w/ Trisha & Josef
August 28, 2021 @ 5:00 pm

-

7:00 pm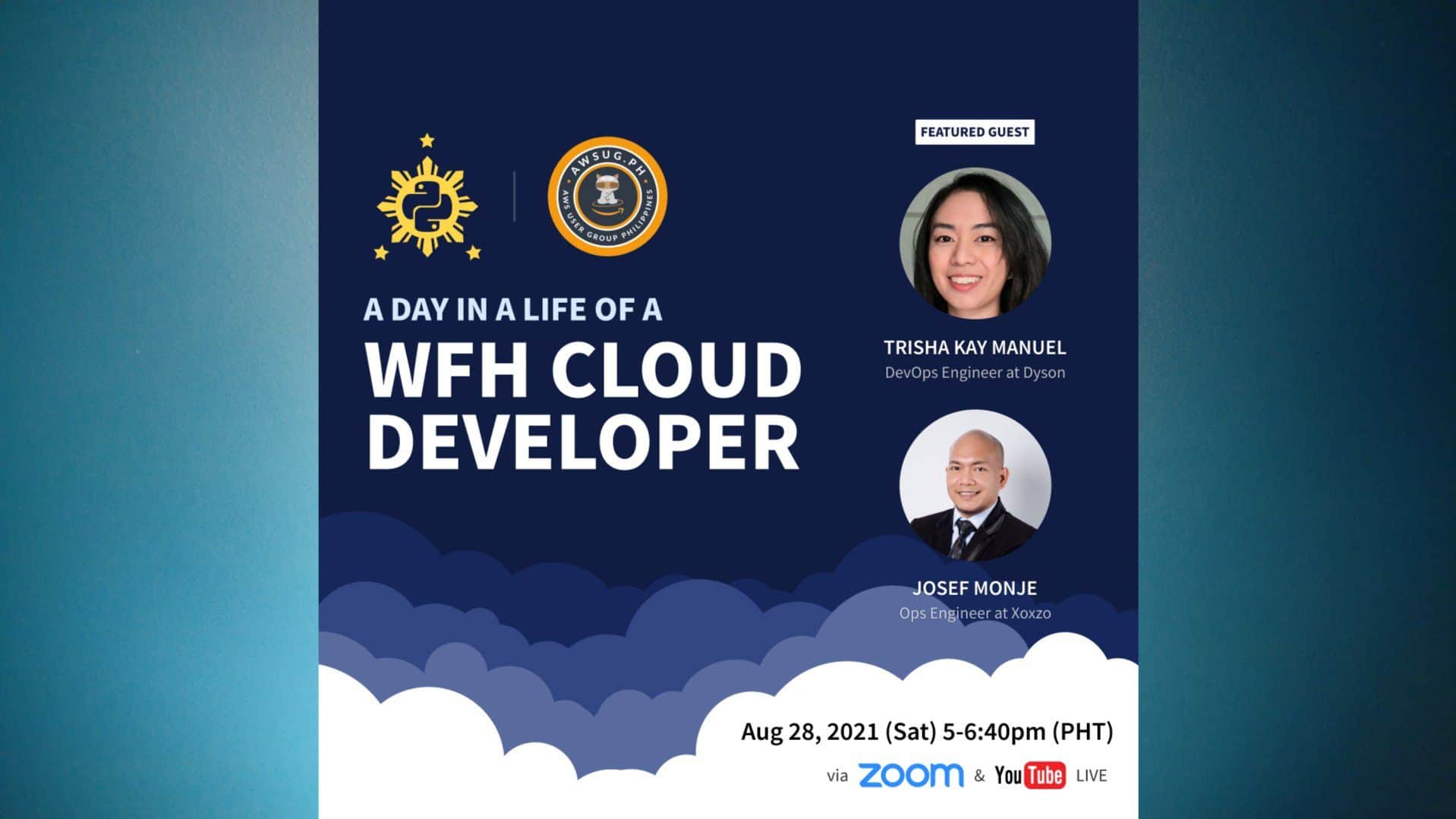 A Day in Life of a WFH Cloud Developer: a webinar talk show with Trisha Kay Manuel (DevOps Engineer) and Josef Monje (Ops Engineer)
Have you ever wondered what a typical day looks like for a Cloud Developer?
WHAT:
A Day in a Life of A WFH Cloud Developer is a webinar talk show which is a collaboration between PythonPH and AWSUGPH. It's kind of like a spinoff of "A Day in a Life of a WFH Pythonista" but instead of just interviewing Pythonistas, we're interviewing people who use both Python and AWS.
The goal of this webinar is to give people in the community an insight of what a typical work day looks like for these professionals. Hopefully, this would also serve as an inspiration and give a sense of community especially for most who are working from home.
This is a very special and exciting episode because we're interviewing not just 1 but 2 Cloud Developers!
In this episode, we will be interviewing Trisha Kay Manuel (DevOps Engineer) and Josef Monje (Ops Engineer):
Trisha is currently a DevOps Engineer at Dyson. She graduated from Mapua University with a degree in ECE. She's had a passion for coding in Python since she started her career as a Backend Engineer at Complete Business Online. It's where she learned how to build web APIs, automate scripts, and got exposed to AWS. She's also a proud mother of 1.
Josef is an Engineer at Xoxzo, Japan where he handles Operations. He has been using Python for 6 years and AWS for 11 years. He has been working from home for 3 years and a working student from home until recently. He graduated from Ateneo de Manila University with a Bachelor of Arts in Psychology and Asian Institute of Management for his Master of Science in Data Science. His hobbies include building Raspberry Pi gadgets and keeping up-to-date with developments in the crypto and AI space.
WHEN: August 28, 2021 (Saturday) at 5:00pm-6:40pm (PHT)
WHERE: Online via Zoom and broadcasted on YouTube Live
Hosted by:
– Angelica Lapastora and Alysson Alvaran of PythonPH
– Kaye Alvarado and Jaypee Ignacio of AWSUGPH
—
SPECIAL THANKS:
Special thanks to the core volunteers of PythonPH and AWSUGPH. This show was made possible through their joint efforts! <3