[AWS User Group PH x PythonPH Meetup] A Day in a Life of a WFH Cloud Developer
August 28 @ 5:00 pm

-

6:30 pm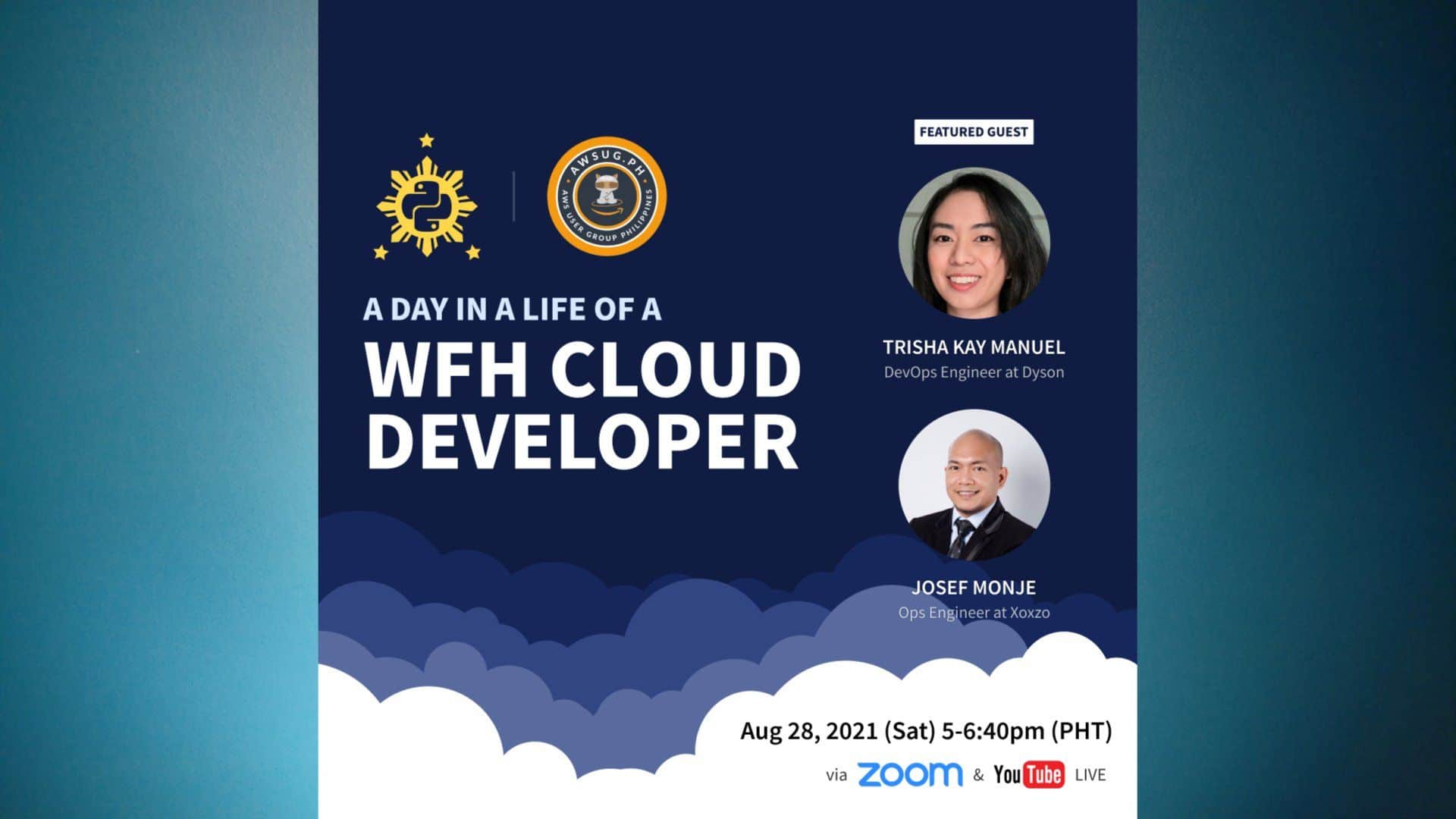 Details
A Day in Life of a WFH Cloud Developer: a webinar talk show with Trisha Kay Manuel (DevOps Engineer) and Josef Monje (Ops Engineer)
Have you ever wondered what a typical day looks like for a Cloud Developer?
WHAT:
A Day in a Life of A WFH Cloud Developer is a webinar talk show which is a collaboration between PythonPH and AWSUGPH. It's kind of like a spinoff of "A Day in a Life of a WFH Pythonista" but instead of just interviewing Pythonistas, we're interviewing people who use both Python and AWS.
This is a very special and exciting episode because we're interviewing not just 1 but 2 Cloud Developers!
In this episode, we will be interviewing Trisha Kay Manuel (DevOps Engineer) and Josef Monje (Ops Engineer):
Trisha is currently a DevOps Engineer at Dyson. She graduated from Mapua University with a degree in ECE. She's had a passion for coding in Python since she started her career as a Backend Engineer at Complete Business Online. It's where she learned how to build web APIs, automate scripts, and got exposed to AWS. She's also a proud mother of 1.
Josef is an Engineer at Xoxzo, Japan where he handles Operations. He has been using Python for 6 years and AWS for 8 years. He has been working from home for 3 years and a working student from home until recently. He graduated from Ateneo de Manila University with a Bachelor of Arts in Psychology and Asian Institute of Management for his Master of Science in Data Science. His hobbies include building Raspberry Pi gadgets and keeping up-to-date with developments in the crypto and AI space.
WHEN: August 28, 2021 (Saturday) at 5:00pm-6:40pm (PHT)
WHERE: Online via Zoom and broadcasted on YouTube Live
Hosted by:
– Angelica Lapastora and Alysson Alvaran of PythonPH
– Richard Agbay and Raphael Jambalos of AWSUGPH