Her 4.0 Mini Event | The Art of Technical Writing
March 27 @ 2:00 pm

-

3:00 pm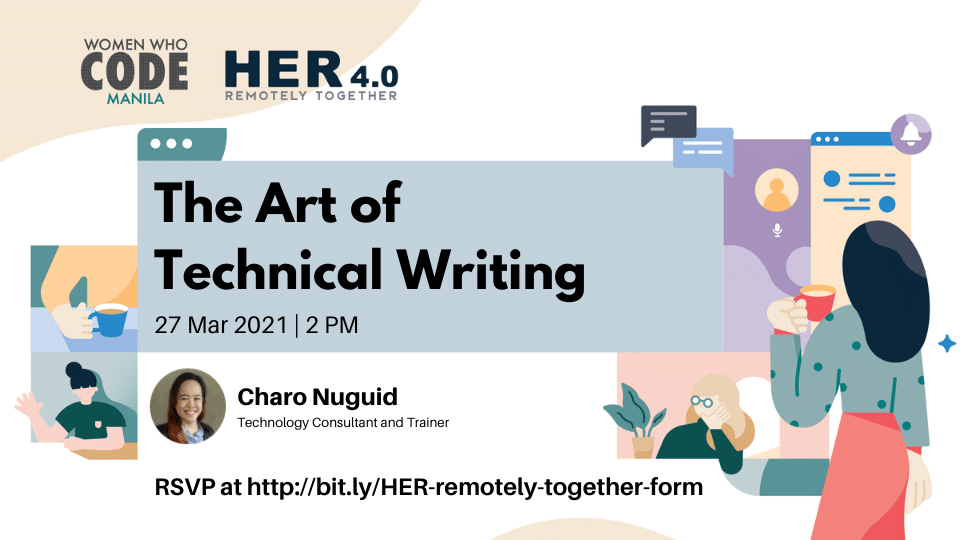 Official Form for the month: http://bit.ly/HER-remotely-together-form
Make sure you have answered this first so we can move you from waitlist to RSVP. You only need to answer this once this women's month.
Topic: The Art of Technical Writing
When one talks about technical writing, it often brings up notions of people writing user manuals and documentation. In reality, it goes beyond that and is a required skill whether you're sending an email to your boss or applying for a job. The Art of Technical Writing will give you the 101 on how to do written formal correspondence for almost any situation.
About our Speaker:
Charo Nuguid, Technology Consultant and Trainer
Charo is currently busy with studying for a couple certification exams as well as trying to finish her second fanfic novel. She also takes care of three dogs, 15 cats, a couple guinea pigs, and a garden full of vegetables and fruit trees. She's also still trying to learn to ride a bike.